Pay with PayPal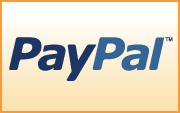 Now you can buy Gift Cards online with your PayPal account, including M&S, John Lewis, Debenhams, and all your favourite UK high street retailers and restaurants!
Where can you use PayPal to buy Gift Cards online? Right here at TheGiftCardCentre.co.uk!
Buying UK Gift Cards online just got easier, now that TheGiftCardCentre.co.uk accepts PayPal as payment! Just select the Gift Card of your choosing, and at checkout select "Pay by Credit/Debit card" This will take you to SagePay where you can see the PayPal button.
PayPal is a fantastic way to shop online, and we want to make buying Gift Cards online easier than ever. So yes, now you can use your PayPal account to shop for your heart's content at TheGiftCardCentre.co.uk - the UK's leading Gift Card online superstore!
Click here to view all of our Gift Cards you can purchase with PayPal (please note you cannot pay for any e code with Paypal)